Sometimes you want to edit those tags for your Music collection, or even worse, create an mp3 album with 100 different mp3's from different albums and different tag formats. In this last situation Mp3tag is an ideal program. Mp3tag is a free, easy to use tag editor that has a lot of possibilities, and with each version the options get more.
When you start up a screen appears that immediately shows all the tags you can insert/change. It starts in the folder where you installed mp3tag, this folder will probably don't have any files that can be tagged, so we need to select a different folder. There are many ways to do this, you can just type the location on the left where it says Directory, or click the button in the top bar which says change directory, or we use a quick key Ctrl+D.
By default Mp3tag will select the selected folder and every folder below it, but you can switch this of in the options. Also you can set a certain directory as a default start directory, even though mp3tag will always try to open the last opened location.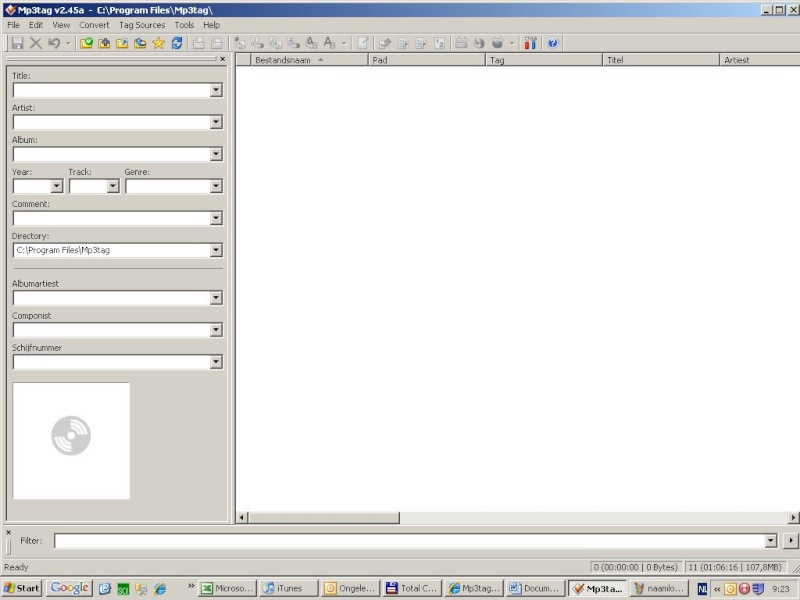 When you have found a folder that has files that can be tagged (your mp3 folder for instance) you will notice you all of a sudden have even more options and actions available. Select one file and you see all the fields being filled in that are already filled in when you got them. You can change the tags by simply typing something else in that field and press the save button, but the power of mp3tag is in the fact that you can select all files at once and change tags for all files at the same time. Say you want to change the name of the album, you don't have to select each song with the risk of making typos.
But what is more fun is that you can make mp3tag automatically set the track numbers. Just click the autonumbering wizard and set your criteria. You can choose to keep the total track count together with the current track number, set leading zero's or even if you have multiple folders selected let mp3tag reset the track count for each folder.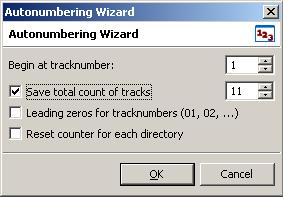 This are just some simple possibilities of mp3tag. If we only look at the quick toolbar there are plenty of other possibilities, most of them I haven't really used before, but lets just try them, maybe it is something that turns out to be very handy

.
Add directory, very nice if you have your audio files in more then one directory, this allows you to open two directories located anywhere on your disk.
Load Playlist/Cuesheet, also a way of opening audio files in mp3tag, only this one is based on a created playlist or cuesheet.
Up, makes mp3tag go up one directory from the one you have currently selected. No idea why you would use it, but it's there.
Favourite directory, guess you can use this to set your favourite directory. Don't really see a point to it, but it probably has a nice function.
Refresh file view, refreshes your file view, if you added/removed a file for instance, this helps you see it in mp3tag.
Move to and copy to allow you to move/copy files selected to different folder. I would prefer explorer for this, but it's nice that it's there.
Tag to filename, ideal way to rename file names. Using some text options you can chose how the filenames should look, if they need to contain artist, album, track number or song name. And if you press help you find even more possibilities to use in your filename.
Filename to tag, also a great function, helps you to get information from the filename to use in your tag. Say you downloaded a song called 01-Artist-Great Song, then you can create a tag from this using the filename. In this example just use %track%-%artist%-%title% and the track number, artist and song title are taken from the filename.
Filename to filename, using this you can change the order of the filename, using the example above, say I would like the artist to be at the end then we convert it using this command.
Text file to tag, helps you import tag information using a premade text file.
Actions (quick), the two actions buttons allow you to do even more changes to filenames and tag, like making it upper or lowercase, import covers from other files. Allot of nice options making it easier to make your tags as complete as possible.
Extended tags, this allows you to add even more tags then just the ones available. For instance iTunes has a box for compilation cds, a tag that isn't found in the main view, well you can find it here, together with many more tags. Haven't seen this before, always needed to set compilations after importing in iTunes, but now I can do it before.
Export, allow you to export the track list to html or text file, might be handy if you need to show the tracklist of an album for instance.
Make playlist from files, comes in two flavours, all files and selected files. Nice way of building a playlist, even though I myself don't really see a good use for it.
Autonumbering wizard, discussed that before

Freedb (quick), also comes in two flavours, a quick version and normal version. It allows you to import album information from freedb, amazon or couple of other websites. Didn't work when I tried it, but if it works it could be handy.
And then consider, this is just toolbar functionality, there is more available in the menu. Then there is also an option to import other external tools, so more functions and possibilities might be developed by other people.
My experience, it's a great program, it does the job (create tags for audio files) and it does it well with allot of options. But also important for allot of people, it comes in many languages, supports many audio/video formats and it's free.
More information on this program can be found at http://www.mp3tag.de/en/index.html



Posts

: 2238


Join date

: 2009-08-18


Age

: 37


Location

: Zoetermeer




Similar topics
---
Permissions in this forum:
You
cannot
reply to topics in this forum