Source liveaquaria.com
QUICK STATS
Minimum Tank Size: 30 gallons

Care Level: Easy

Temperament: Semi-aggressive

Reef Compatible: With Caution

Water Conditions: 72-78° F, dKH 8-12, pH 8.1-8.4, sg 1.020-1.025

Max. Size: 4"

Color Form: Blue, Orange, Yellow

Diet: Omnivore

Origin: Fiji, Indonesia, Vanuatu

Family: Pomacanthidae

Insert Date: 7 July 2010

Very common on the Great Barrier Reef, the Coral Beauty Angelfish is also known as the Twospined or Dusky Angelfish. The body and head are a deep royal blue, highlighted with an iridescent orange to yellow. The Coral Beauty Angelfish is one of the easiest angels to care for.
It requires a 30 gallon or larger tank with lots of hiding places and live rock for grazing. Not a good reef dweller, the Coral Beauty Angelfish is prone to nip at stony and soft corals (sessile invertebrates).
The diet of the Coral Beauty Angelfish should consist of Spirulina, marine algae, high-quality angelfish preparations, mysis or frozen shrimp, and other quality meaty foods.
Through one of the forums I'm a member of I noticed this fish. The person selling it did so because the whole aquarium was going to be sold after one of their anemones died ejecting a toxin into the aquarium which they couldn't get out anymore.
To be sure I inserted the fish into the aquarium without adding the water.
In the pictures below you can see the aquarium how it used to be with them, the fish are hard to see in the picture unfortunately.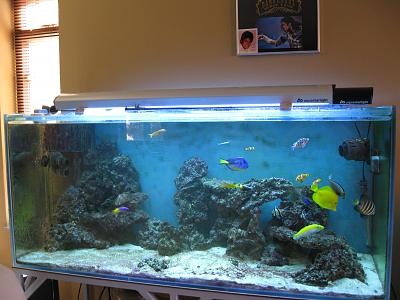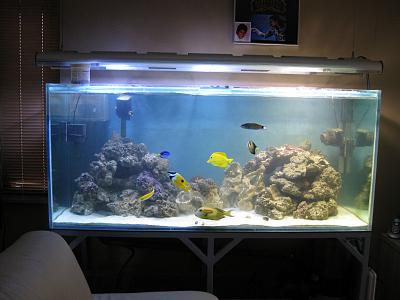 He is swimming through all the rocks, showing up from time to time.
We sold him, it was hard to catch it because it kept hiding underneath the rocks. So we had to clear the whole aquarium to get him. Unfortunately his new owners don't keep a journal so we won't be seeing any updates on this fish.


Similar topics
---
Permissions in this forum:
You
cannot
reply to topics in this forum