Growing on the right side of the aquarium behind the toadstool. No idea what it is yet, hope to find out something about it soon.
They dont show under the brown algae, not sure if it is still there.
I found this picture on one of the forums im member of, and thought it looked a lot like what i have.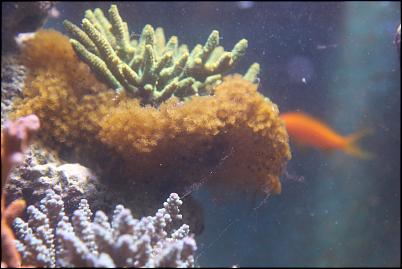 If it is the same it's the myrionema, which seems to be a real plague. It is depending on light and can outgrow the aquarium quickly. Maybe the brown algae suffocated it already, but if not there are some solutions on this site:
http://www.danireef.com/2009/01/13/myrionema-amboinense/#emyrionema
It seems to be spreading already now that the Dinoflagellates are gone. The rock with them on it is still in the aquarium, haven't tried to remove them yet.
Whatever it was, it's gone now.
Seems to be back again.

---
Permissions in this forum:
You
cannot
reply to topics in this forum