This time it's not really a program, but more a website that offers a nice function. Everyone probably knows this problem, you get a PDF and need to edit it, or you lost the original. Of course you can buy the full Adobe Acrobat suite to edit it, and of course this is the best way there is, but also the most expensive. For me, I'm not someone who edits and work in PDF files the whole day, just occasionally (very rare) have a document that needs editing, or get a request from someone for a tool like this.
During my search I stumbled upon several sites that claim to do this converting, convertpdftoword.net was one of them. The site looks easy, doesn't have too much advertisements or flashy stuff that probably everyone hates and is free. There are also other versions of this site by the same maker, that convert PDF to Text, Image or HTML and even the other way for Text and Word files. There is also a link to remove passwords and restrictions from a PDF file (if you are the owner and have the password).
Lets give it a try, I have made some manuals in the past for a website I made, of course I lost the original word files and I don't want to type them over (advanced document people, really :p). We open our browser and go to http://www.convertpdftoword.net/, there we see a button somewhere saying Browse (bladeren in my case). Let's press it and select our document, and then press convert and download.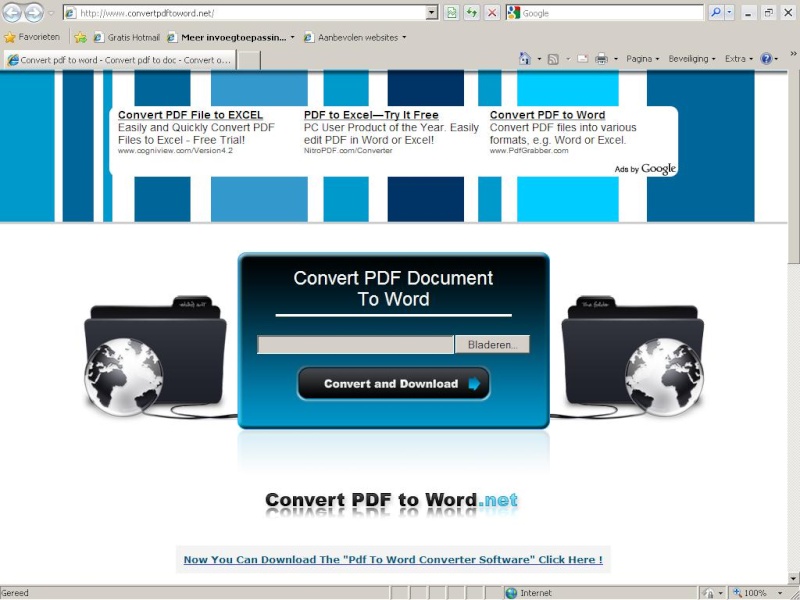 First the document gets uploaded, I can imagine people having some trouble with this if it involves secret documents or documents with personal data in it. There is no place saying what will be done with the files afterwards, where they go, so I wouldn't put my trusted documents in there.
After I have uploaded the document it starts to convert, it takes a very long time on my pc, so long that I decided to check some of the links on the site. One of the links pointed to http://www.pdftowordconverter.net/, the idea is the same, only this time I uploaded my file and got it back the same second. The quality was good, but it was an easy document (text and pictures only). He converted the text to text blocks, which isn't the easiest thing to work with, but since it's a free web based converter we will not complain about this.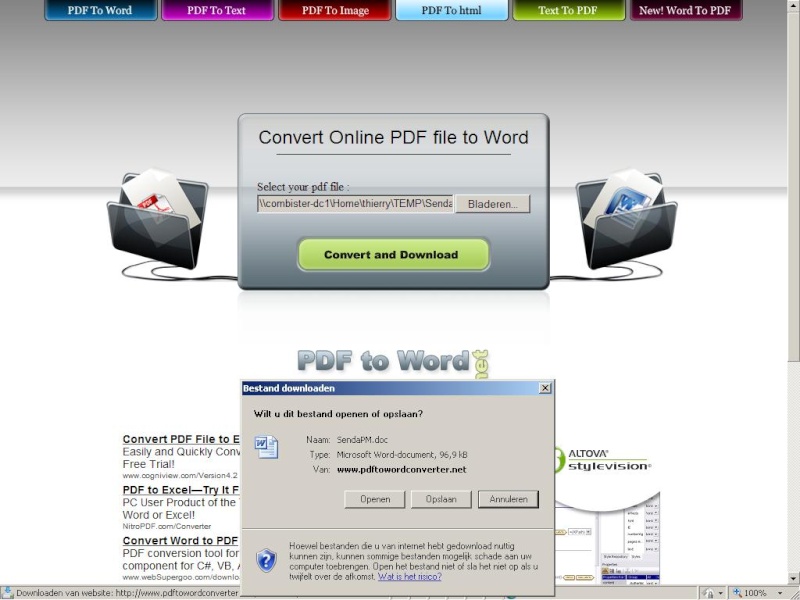 While writing this the other website came with the download option (a button), I pressed the button but didn't see anything happen. Maybe it was because it was the same document as I used in the other converter, so there was already a converted version with the same name.
So lets try a new document, again it takes very long (documents are 27 kb and only text and pictures). But in the end I guess something went wrong, because now when I press download I actually get a save download screen.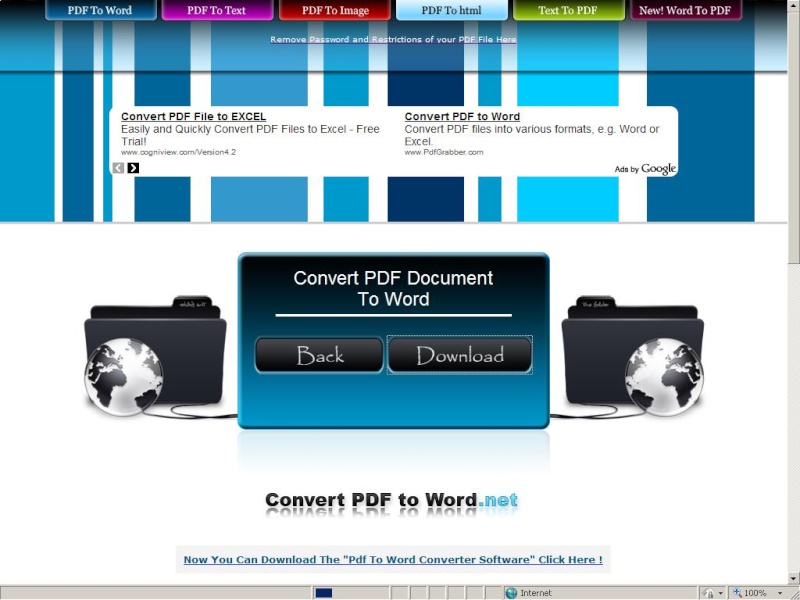 My conclusion, even though I started about the website convertpdftoword.net, I like the pdftowordconverter.net site a lot better. It's faster and does the same. I even think it's from the same maker. Maybe I caught convertpdftoword.net in a bad day, because my girlfriend used it and was happy about it.
I also tried the other sites linked at the top to convert my PDF, all worked very fast and very nice. So whenever you have a PDF file that you need to convert, I can really recommend http://www.pdftowordconverter.net/ and its sub sites. The other way around works great with text files, but create PDF from word doesn't work at this moment of writing.



Posts

: 2238


Join date

: 2009-08-18


Age

: 37


Location

: Zoetermeer




---
Permissions in this forum:
You
cannot
reply to topics in this forum