Source reeflex.net
QUICK STATS
Minimum Tank Size: 22 gal (~ 100L)

Care Level: satisfying

Water Conditions: 75.2 °F - 82.4 °F (24°C - 28°C)

Max. Size: up to 6 cm

Diet: food specialist

Origin: Indo Pazifik, West Pazifik

Insert Date: 26 September 2009

Whitish irregular urchin, with blotches of brown pygment at the edge. Also the flower like drawing formed by the pores of the aquiferous system is brown. A series of elongate spines, quite ruffled, are directed backward. 6 cm
Last edited by thierry on Tue Mar 02, 2010 11:32 am; edited 7 times in total
Introduction to the tank, never to be seen again :p
Spotted at night, doing his thing under the sand
The mouse was spotted trying to turn in the corner of the tank, nice chance to make some pictures
Mouse spotted underneath the new coral
He's acting a bit strange, trying to break free or something, and monday he was stuck between the rocks, my girlfriend needed to safe him.
The Urchin started acting more strange each day, until it didnt move much at all anymore, stayed above the sand and started loosing his hair. We took him out in a separate environmont, and from that moment it ended quickly for the urchin. He was one of our first inverts in the aquarium, I'm really sad about it

On february 27 2010 we declared him dead.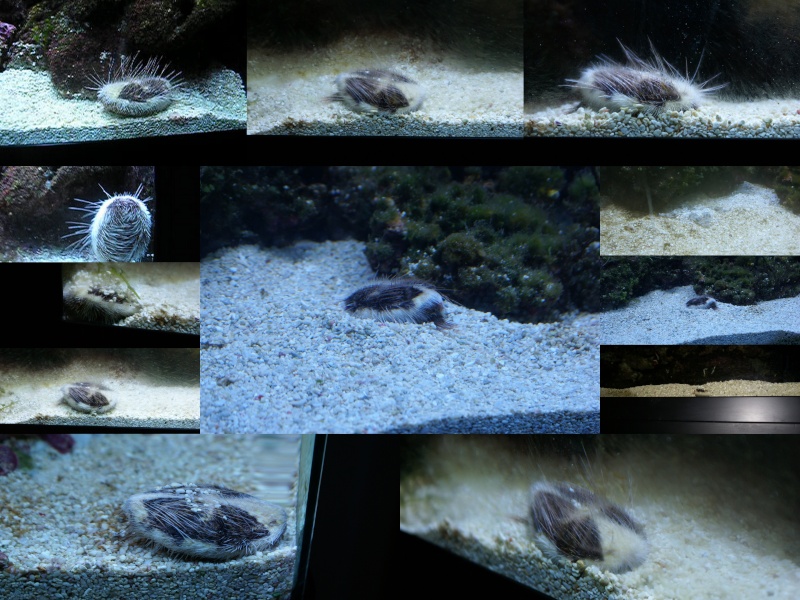 Similar topics
---
Permissions in this forum:
You
cannot
reply to topics in this forum