Already long time since the order was placed, it's now arrived. Together with the spoiler. The rear bumper is ordered and I'm looking at a couple of Fenders. Here all details from now on will be placed.
This is how I got the car
Last edited by thierry on Tue Sep 15, 2009 1:33 pm; edited 2 times in total
My Altezza taillights and hyperstyle sidemirrors added

Last edited by thierry on Tue Sep 15, 2009 1:40 pm; edited 1 time in total
Some nice Angel eye headlights

Also dont forget a nice but minor detail instead of the sidesignals:
Last edited by thierry on Mon Oct 05, 2009 5:14 pm; edited 2 times in total
Found some awesome fenders at Andy's Auto Sport. Emailed them today for a quotation on the shipping. Kinda need them also, since both current fenders are now damaged. Price of these are $159.20 / Pair
http://www.andysautosport.com/hyundai/1997_1999_tiburon/exterior/fenders/fiberglass_fenders/extreme_dimensions/
Also received an email from Sharkstyling to confirm the rear bumper, Zefiro. No picture found yet.
Got the bill for the rear bumper, V-Style, yesterday. This one I was supossed to get second hand, but now comes new because the guy I was going to get it from sold it already.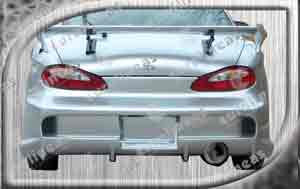 Also received a reply from Andy's Auto Sport, the price for the fenders was 200+ dollars. Not sure if this is just shipping or the total price, asked this just to be sure.
Also made an appointment with the garage for APK and service for next tuesday
Finally after a long wait the bodykit is ready to be picked up. So going to make an appointment with a painter and directly bring it there to let it be placed. The good news letter:
Thierry,

Ga even zitten.

Zit je?

Komtie:
Je bumper is binnen en heb je bestelling compleet. J
Wanneer wilde je het komen halen? Graag z.s.m., mijn garage is meteen vol, nu. Haha.
Ik hoor graag van je.

Jeroen van Roon.
Sharkstyling.com
E-Mail: jeroen@sharkstyling.com
Tel: 0031-(0)6-23-80-54-30

Yesterday I went to pick up the bodykit for my car, so it's in my parents garage now. Only thing left now is save some money to get it painted and then the kit, spoiler and the rims will be put on the car

This topic is coming to an end, at least for me it's not going to be updated much. For updates you can go to the blog that has been opened for this subject. There I will continue posting. So start reading
here
!



Similar topics
---
Permissions in this forum:
You
cannot
reply to topics in this forum